Customer response: "The ladies were a great success and we received many compliments, very nice and thank you!"
This light classical and optional mobile act is formed by harpist Rose and soprano Maaike (Dutch Opera). They offer various stylish, partly theatrical acts with exuberant costumes and a lot of interaction with the audience. A sparkling mini concert, harp background music during a dinner, supplemented by a number of beautiful arias between courses, a number of short intermezzi, a part in which the guests get a mini singing workshop and sing along everything is possible
Also a complete song written to measure belongs to the (successful!) Possibilities.
Repertoire Donna e Mobile harp soprano duo:
The repertoire includes 18th-century Italian songs as Mozart, Puccini and Bizet but also 30 evergreens. A fiery Carmenaria, a love letter program about Mozart, Venetian Carnival with golden confetti or Kerstengel act. All beloved Christmas songs are over. A program with customized texts … Donna e Mobile can also bring a flowery version of the beautiful Aria Antiche, Neapolitan and Venetian songs and arias of Mozart and Puccini in which the interaction with the audience plays a major role. Do not hesitate to ask about the possibilities at Buro van Otterloo.
Mobile reception act at entrance
Duo Donna e Mobile can, depending on the circumstances, move between the audience with the self-designed and unique 'harpobile': a charming riding 'harp-cart' on which the harpist sits and is pulled through the soprano. This harp-soprano duo can make a surprising entrance or musical tour while playing and singing.
Custom made performances in theme
Donna e Mobile also provides tailor-made services and a Custom made song for, for example, the departure of a director or employee or bringing the new strategy of your company in a stylish, musical way.
In addition, various specials of this truly phenomenal harp-soprano duo are possible, such as performances in the theme Bal Masqué (Venetian theme party), Christmas (Christmas performance act).
Customer response: "The Christmas angels were a bull's eye, goose bumps when the entire management team started singing! Many compliments may receive!"
Clothing of choice in theme of event: this playful classical harp-soprano duo can perform in beautiful dresses from floral baroque, theatrical gala, passionate red, obliging black and white to fairytale gold or completely casual of course.
Dinner with various performances of this duo
Possibilities for an evening-filling program are:
The duo welcomes a cappella guests at the entrance (15 min.) They can fulfill a logistical function by pointing the guests in the right direction), solo harp during dinner (when guests enter the dinner hall), and 2 intermezzi of 5-25 minutes of your choice.
Unique and memorable is the performance of Donna e Mobile with a personal aubade, a song specially written for the occasion, in which a moment or person is put in the spotlight. For example a jubilee, a director who leaves or a birthday!
Sopraan Maaike is een zeer originele en uitstekende tekstschrijfster in zowel het Nederlands als het Engels. Na het toegestuurd krijgen van achtergrondinformatie over uw bedrijf, scheidend directeur, jarige etc. en eventueel een telefonisch interview, schrijft zij een stijlvol lied op maat met inhoud én humor!
Zie onderstaande video als voorbeeld van zo'n lied op maat voor de Gemeenteraad van de Toekomst in de Balzaal van Paleis Kneuterdijk te Den Haag in aanwezigheid van met vele prominenten.

This exclusive special from Donna e Mobile is ideal for Italian, or more specifically the Venetian, parties. In their Venetian act, this duo brings authentic repertoire from Venice with their beautiful matching costumes.
Possible as a central act (intermezzo), as a mobile interactive act between the tables or guests by or as an eye catching entrance act. Optionally, the singer can hand out personal and special give-aways. Also in the Italian atmosphere they can singalong with all guests with the song 'O Sole Mio' (presentation in Dutch or English)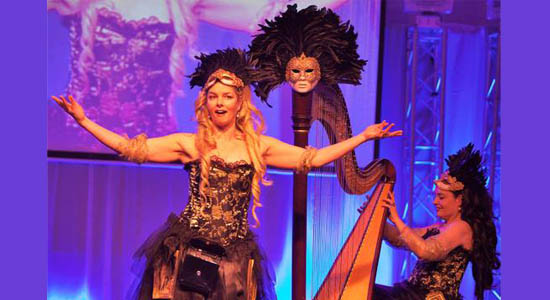 Especially for the days around Christmas, duo Donna e Mobile has the Christmas angel act consisting of English Christmas music, Italian songs full of romance or French melancholy. Duo Donna e Mobile presents with a stylish and theatrical program, light in the dark days. Posibilities are: an intimate intermezzo during dinner, a mobile performance during larger receptions, a fairytale reception or a passionate serenade.