Clog dance girls in traditional Dutch clothes
The Dutch clog dance girls will welcome your guests in nice traditional Dutch costumes with clogs, while they can hand out a welcome cocktail, some cheese or typical Dutch drinks, while typical Dutch music is played by live accordeon player in a nice Dutch décor with giant clogs, barrelorgan, tulips, cheeses and windmill screen. Later on they can do a clog dance act starting with a short explanation of the history of the clog dance and the typical Dutch costumes the girls are wearing. Of course interaction with the guests by giving a short clog workshop so they can dance together!
While saying the guests goodbye personally,  everyone gets the chance to make a nice picture with the charming clog dance girls, and of course the Dutch music will still be playing. They also bring an extra Dutch cap ('hul') that the person on the picture can wear.
As intermezzo this act is 15-40 minutes, as 'background' act during reception they can perform about 60-90 minutes.
The girls with the typical Dutch outfit can also be hostesses and serve at your party or dinner. Contact Buro van Otterloo for more information.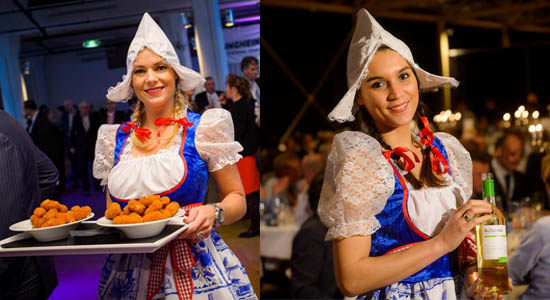 Chinese client: " 真诚感谢Buro van Otterloo为我们公司奖励旅游团组米其林提供的木鞋舞蹈表演,非常棒,所有的演员很专业也很配合,她们的表演是我们的晚宴的成功的重要环节!! 再次感谢
(Google translate: "Sincere thanks Buro van Otterloo for our company offers incentive travel missions Michelin wooden shoes dance performances, great, all the actors are very professional and very fit, their performance is an important part of the success of our dinner! ! Thanks again!"
Click
hier
for more Dutch entertainment, From Stilt walkers to bands!